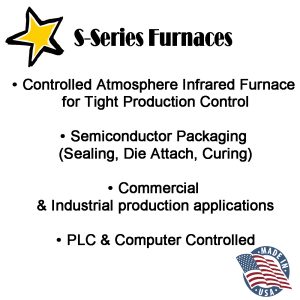 Parameter
S-600
S-900
S-1200
S-1500
S-2400
Process Gas
CDA, Nitrogen (N2), Forming Gasand Nitrogen/Hydrogen mixing models available.
Control Zones
6 zones
 6-7
zones
 8
zones
10-12
zones
16
zones
Heating Chamber length
152 cm
60 inches
230 cm
90 inches
304 cm
120 inches
380 cm
150 inches
609 cm
240 inches
Cooling Chamber
152-304 cm60-120 inchesconsisting of a mix of these modules,depending on the application:
1. CACT – CDA or N2 convective and radiant cooling,exterior fan heat removal.
2. CAWC – CDA or N2 convective and radiant coolingcold water heat removal (city or chiller).
3. Fan-driven ambient air.
Conveyor Belt
BNV- low mass, stabilized Nichrome-V
Belt Size
(model, width)
S-60924
cm(9.5 in.
S-90924
cm9.5 in.
S-120924
cm9.5 in.
S-150924
cm9.5 in.
S-240924
cm9.5 in.
S-61538
cm15 in.
S-91538
cm15 in.
S-121538
cm15 in.
S-151538
cm15 in.
S-241538
cm15 in.
S-62461
cm24 in.
S-92461
cm24 in.
S-122461
cm24 in.
S-152461
cm24 in.
S-242461
cm24 in.
Exhaust
Improved Venturi exhaust stacks
to reduce process gas consumption.Number of stacks will vary with process requirements.
Temperature Capacity - max
600*C*1000*C
*with HT option
High Temperature Operation. 
High temperature construction for furnace operation
above 500 degrees *C* up to 1000 degrees*C*.
Includes upgraded insulation and materials,changes
BSS 316 stainless steel belt
to BNV Nichrome material
and except for LA-306 and V models
adds cabinet temperature thermocouple plus alert/alarm
on cabinet temperature
Standard on many furnaces andavailable on most furnaces
Electrical
All models include universal transformers
which accommodate 208-480 Vac and 50/60 Hz frequency
anywhere in the world allowing furnace relocation
without external equipment. We are CE Approved!
All furnace systems are phase balanced
to improve facility efficiency.
IR lamp controls automatically keep IR spectrum constant.

KARENMADISON.
COM
619.985.9390
madison@karenmadison.com
All standard models (except LA-306 series and "P" models) include a RAID1 computer with LCD  screen, full size keyboard interface
and both Ethernet and wireless-N high-speed network connections to facilitate view
and control of the furnace by managers and process engineers from any location.
Four (4) local USB ports are provided, convenient for connecting a furnace profiler and jump drive storage devices.
Our new "P" series replaces the computer control system with high quality discrete digital controllers
for cost-effective precision control on repetitive production applications.
These furnaces are a good solution in applications where process recipes are changed infrequently and auxiliaries are at a minimum.