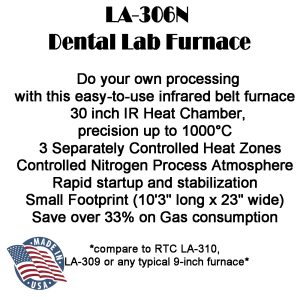 Compact Medium to High Temperature
Infrared Thermal Processing Furnace
With basic models priced under $45k, the LA-306 is a low cost compact furnace ideal for processing dental lab and small dental facility production work. The small 6-inch wide chamber offers excellent temperature control and rapid rise to 1000 degrees *C*.
High Temperature Oven and Furnace
with Nitrogen process gas flow
This is a true near-infrared furnace.  Process atmosphere is controlled using nitrogen process gas forced through the heating chamber insulation providing a preheated, laminar flow to create a uniform, stable atmosphere ideal for drying or sterilizing in a continuous process in an industrial or clean room environment.
Process Reliability and Repeatability
Precise temperature is maintained by control thermocouples above the belt in each zone quickly sensing changing conditions.
IR quartz heating lamps inside the chamber instantaneously
adjust their output to achieve tight temperature control.
Each load through the furnace sees the same temperature profile.
The furnace is operated via individual digital PID controllers
to control the temperature in each zone.
For efficiency and smooth control, phase-angle fired SCR's
are used to power the lamps.
Dental Laboratory Applications
The LA-306 Dental Lab Furnace can process castings, substrates,
wafers, metal, ceramic, glass, titanium and porcelain,
or polycarbonate parts for dental bonding,
Polymer Curing, Hybrid/Thick Film Firing,
titanium porcelain veneering,
and General Thermal Processing and sintering applications.
In addition, these furnaces can be applied to tempering,
annealing, hardening and quenching, solution annealing,
forging, curing, preheating, drying, ageing applications
on a continuous basis in an atmosphere controlled environment.
Furnace Arrangement
THERMAL PROCESSING
Parameter
LA-306N
Load Station
38 cm
15 inches
Entrance Isolation Baffle with Venturi Exhaust
38 cm
15 inches
IR Heating Chamber, Zone 1

19 cm
7.5 inches
IR Heating Chamber Zone 2
38 cm
15 inches
IR Heating Chamber Zone 3
19 cm
7.5 inches
Transition Tunnel
optionally with Venturi Exhaust
38 cm
15 inches
CACT
Closed Atmosphere
Cooling Chamber
76 cm
30 inches
Unload Station
38 cm
15 inches
Specifications for LA-306N Compact Dental Production Furnace
NEW!  THREE PHASE MODELS NOW AVAILABLE
SPECIFICATIONS
Process Gas
Nitrogen N2
Control Zones
3 Zones
Heating Chamber length
76 cm (30 inches)
Cooling Chamber
CACT
N2 convective and radiant cooling, exterior fan heat removal.
Belt Speed
10-500 mm/min (0.5-20 ipm) or 25-1000 mm/min (1-40) ipm (other speeds available)
Conveyor Belt
BNV- low mass, stabilized Nichrome-V
Exhaust
Improved venturi exhaust stacks to reduce process gas consumption. Number of stacks vary with process requirements.
Temperature Capacity, max
1000 degrees *C*
Electrical
Single phase design.
All models include universal transformers
which accommodate 208-240 Vac and 50/60 Hz frequency
anywhere in the world, allowing furnace relocation
without external equipment.
IR lamp controls automatically
keep IR spectrum constant.
Facility Requirements
Parameter
LA-306N
Standard Power
Hi Power
PowerPower
208 Vac
1 ph
50/60 Hz
13.8 kW
66.5 A
17.2 kW
82.6 A
Curve
220 Vac
1 ph
50/60 Hz
14.2 kW
64.4 A
17.2 kW
78.1 A
Operating Current
as a function
of Temperature
230 Vac
1 ph
50 Hz /60 Hz
14.5 kW
62.9 A
17.2 kW
74.7 A
240 Vac
1 ph
50/60 Hz
14.8 kW
61.6 A
17.2 kW
71.6 A
Parameter
Process Section
Typical (exchange rate 2.0x)
850 degrees *C*
with balanced flow
Typical (exchange rate 2.6x)
850 degrees *C*
&
25 Lpm excess for Low O
Process Gas Supply
Nitrogen
84 Lpm@5 bar
177 SCFH
@
70 psig
108 Lpm
@
5 bar
229 SCFH
@
70 psig
Process Gas Exhaust
Nitrogen
84 Lpm
177 SCFH
97 Lpm
206 SCFH
Enclosure Ventilation
Furnace Cabinet Fan
(1)vent to room
or
facility exhaust system
930 m3/hr
@
30 degrees *C*
550 cfm
@
86 degrees *F*
Control Cabinet Fans (2)vents to room
360 m3/hr
@
30 degrees *C*
(212 cfm
@
86 degrees *F*
Dimensions
Length
3.07 m
121 inches
Width
0.64 m
(25 inches)
Height
1.71 m
67.5 inches
Adjustable Conveyor Height
9144 mm
+/- 3836 inch
+/- 1.5
Weight
500 kg
1100 lbs
LA-306N Furnace Standard Features and Options
Popular options include the following:
Description
Nitrogen Operation (std on Dental furnace)
Output sensor & chime for emerging parts
Coalescing Air Filter & Regulator
Circuit Breaker
Oxygen Analyzer
Moisture Analyzer
Load table extension (adds 15″ to length)
Unload table extension (adds 15″ to length)
KARENMADISON.COM
619.985.9390
madison@karenmadison.com
All standard models (except LA-306 series and "P" models) include a RAID1 computer with LCD  screen, full size keyboard interface
and both Ethernet and wireless-N high-speed network connections to facilitate view
and control of the furnace by managers and process engineers from any location.
Four (4) local USB ports are provided, convenient for connecting a furnace profiler and jump drive storage devices.
The new "P" series replaces the computer control system with high quality discrete digital controllers
for cost-effective precision control on repetitive production applications.
These furnaces are a good solution in applications where process recipes are changed infrequently and auxiliaries are at a minimum.