Hayes Solitaire Conveyor Furnace
Super Solitaire 27
LAC-MB-030627-AD 
Integral Atmosphere Generator
Hayes Solitaire is a straight through mesh belt
conveyor furnace designed to provide continuous
product throughput and complete process flexibility.
---
The Furnace consists of several major sections:  
Drive System

Entrance Vestibule

Heating Chamber

Cooling Chamber

Exit Vestibule

Integral Ammonia Dissociator
---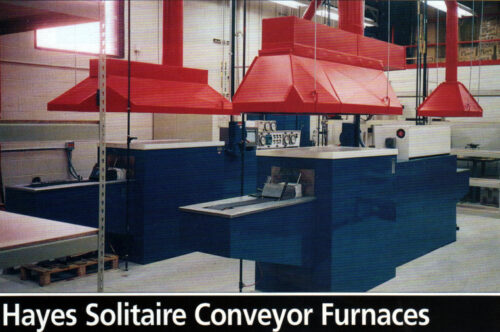 Brochure foto
---
This Furnace is capable of:
Enameling

Annealing

Hardening

Brazing

Soldering

Glass to Metal Sealing

Sintering
---
General:

Super Solitaire 27

NH3 & Nitrogen Inlet Flowmeters

Combustible atmosphere system with N2 purge

Inconel Muffle with internal hearth plates

Furnace (6) Nichrome Ribbon Elements
AD150   (6) Nichrome Ribbon Elements

314SS Mesh Belt rated 3# per linear foot loading @ 2000F

Type:

LAC-MB-030627-AD

Hot Zone:

27"Long Heated Length,  6"wide Mesh Belt,  3"Work Height

Overall Dim.:

Approx  2-1/2'  Wide  x  5' High  x  20' Long

Max Temp.:

2100F  (1150C) Continuous at 2000 deg.F

Utilities:

Furnace 18kw, Contactor Power Switching, Wired 240/3/60

AD150 15kw, Contactor Power Switching, Wired 240/3/60

Controls:

Honeywell Temp Control & Honeywell Overtemp Control, Both Furnace and 150 CFH Ammonia Dissociator

Rear mounted Belt Drive with Indexing Control

Digital speed readout 0-20ipm

Extended Front Entrance Tunnel with Nitrogen Curtains and Burn-off Stack
---
---
More info?
Use FORM?
---
---
---