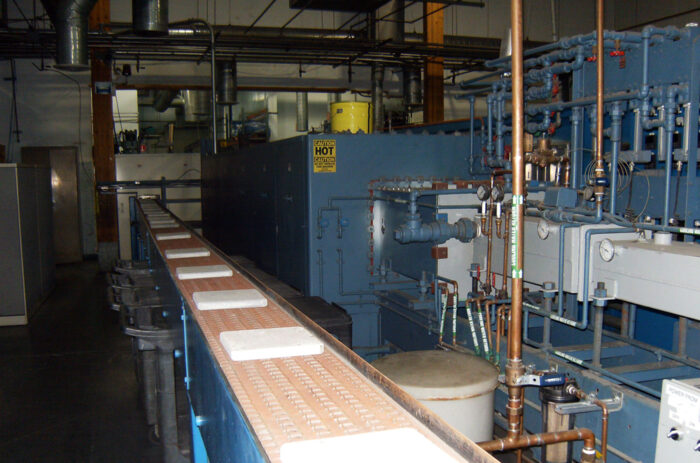 CI Hayes High Temperature Pusher Furnace
 C I Hayes
MY-040890-90PHM
High Temp Pusher Furnace
---
4" Height over Hearth

Trays 8" wide, recommended tray size 8" x 8" x ~1"

Electrically heated 90" long preheat rated for 1100C.

42kW

3 zones of control with Nichrome Elements

Metallic Muffle in preheat.

90" of Heat

1500C

6 zones of control with "MOLY" heating elements

117kW, 460/3/60

198" cooling zone with 5 zone controls

Automated doors at each end of furnace with Nitrogen Atmosphere

Dissociated ammonia/nitrogen blending atmosphere with Nitrogen purge.

Multiple inlets for even atmosphere

Overtemp protection control for both preheat and high heat

A-B SLC-500 logic control

Screw drive, dual speed, anti jam protection

Articulated return conveyor

Hearth level 44"

Overall; 125" wide x 545" long x 72" high
(without burn off stacks).
Complete – Good Condition!!!
---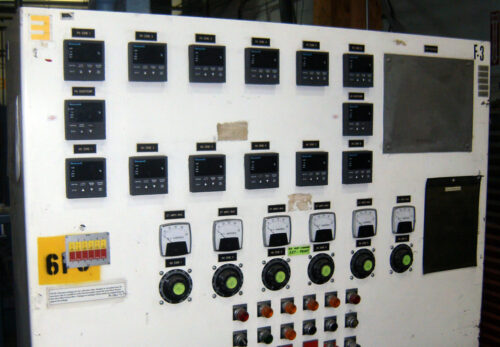 ---
---
---
---
---